An institutional dialogue was initiated in June 2019 to allow stakeholders to work together and design a new welfare model adapted to the needs of future benefit recipients and French society. Alongside this, there was a citizen consultation, comprising three elements: an online consultation (www.consultation-rua.gouv.fr) which ended on November 20, a citizens' jury, which met from January 2020, and six citizens' workshops held between October and December 2019. The citizens' consultation process benefited from methodological support from the Interministerial Directorate for Transformation of the Public Sphere (DITP) and was implemented by Missions Publiques (apart from the digital platform), in a consortium with Roland Berger.
"With this citizens' consultation, you can have your say: you can vote, debate and share your views so that together we can build our future Universal Basic Income."
Agnès Buzyn
Minister for Solidarity and Health
Missions Publiques was called on to provide strategic support to the Delegation, working with the DITP, in other words to design workshops (objectives, conduct, preparing information, and defining the conditions of the debate) and to prepare the citizens' jury (training program and facilitation methods).
In addition, we helped the High Commissioners and their local teams to mobilize citizens, then assisted them with practical preparation (mobilization kit, coaching, follow-up). We also trained facilitators and facilitated six full-day workshops, then produced the reports.
The discussions between the Delegation and participants helped improve the presentation of the draft reform (initial observations and intentions clarified, accuracy and accessibility of the subject matter, the hypotheses put forward for debate and invariants) and of the form of the joint citizens' opinions debated. The reform and the institutional consultation process have been enhanced with input from future benefit recipients (50% of the 450 or so participants are benefit recipients) and their discussions with the Delegation.
More than 80 facilitators were trained during this process to provide support at the in-person discussions. The facilitators are therefore helping spread good citizen participation practices.
7000
participants used the online platform
400
attendees at the face-to-face sessions
This initiative enabled participants to identify the strengths of the Universal Basic Income project, as well as any points requiring clarification, areas of concern and those to be rejected. The divisive issues were explored together, thanks to carefully pinpointing of the issues raised during the workshops
Informative materials that could be easily shared with the public were prepared in advance.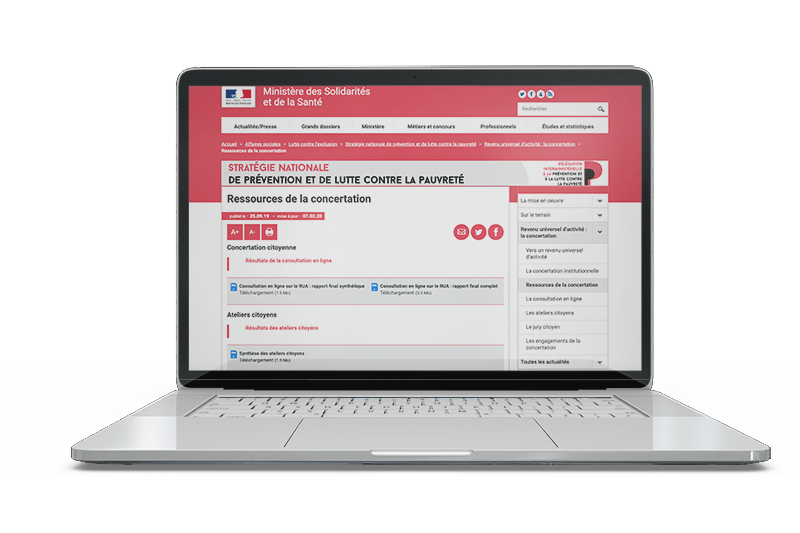 SEE RESOURCES RELATED TO THIS CONSULTATION ON THE MINISTRY FOR HEALTH AND SOLIDARITY WEBSITE