The global pandemic is forcing us to imagine new ways of working, meeting our friends and enjoying "virtual" leisure activities. In our field of activity – citizen participation – where human face-to-face discussion is the keystone of dialogue, this change is not always easy but it is necessary for democratic wellbeing in times of lockdown. While 100% online is not the absolute ideal of participation, it can nevertheless be lively, productive and fun. Here are 5 tips for successful online deliberation.
1) Break the ice from a distance
The invitation sent to citizens is very important, especially if the deliberation (citizens' convention, citizens' jury, citizens' assembly, etc.) takes place online. The first contact is usually made by telephone. An e-mail or an explanatory letter, personalised with offbeat questions, can help to "break the ice" and remove any reluctance on the part of the inhabitants who are being asked to participate, who thus enter into the process beforehand. By taking this information into account at the opening of the first session, for example, the atmosphere is warmer and less formal and the participants are more at ease.
2) All digital situations are taken into account
Going online can accentuate certain divides: that of digital illiteracy of course, but also disparities in tools: no smartphone, computer or tablet, poor connection etc. The email sent and the telephone exchange allow us to find out about these situations and to adapt so that these people can participate: communicating with organisations on site, lending computers or tablets, dedicated people who will accompany the person or persons in difficulty throughout the process… Finally, a few days before the D-day, another contact is made (email and/or phone call) to explain how to use Zoom for example. Thanks to screenshots, and an experience in real conditions, the participants learn about the interface of this tool: how to access the platform via their mobile phone or computer, how to activate or deactivate their microphone and/or camera, how to request speech and how to use the chat to interact etc. And the personalised support can be fun: offering a virtual "aperitif à la française" the day before the meeting to a small group of participants to get to know each other over a drink and learn together the technical handling of vision through a friendly and informal exchange.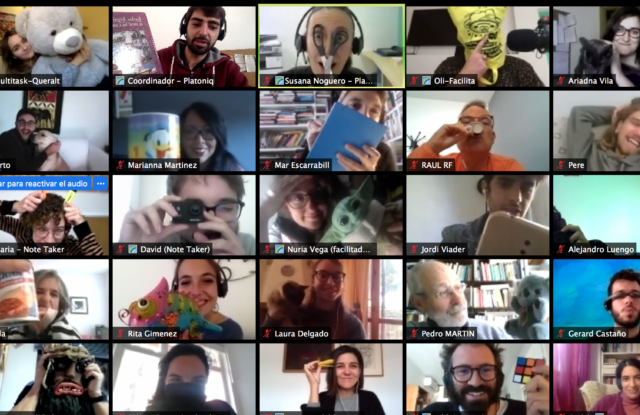 3) We adapt to the familiar universe
Participatory approaches often take place in the evening or at weekends. When you go online, you have to accept that participants (and facilitators) are at home and sometimes with children, pets and that they do not have a dedicated quiet room. It is better to laugh about it than to be embarrassed and make it an opportunity to create support and conviviality. Welcome to real life… citizens and organizers alike!
4) We vary the rhythms
In order not to exhaust oneself and to avoid the spectator effect, it is necessary to banish the intervention tunnels even more than in the presence of the audience and to vary the rhythms. And here, technology helps us: distributing speech is easy, activating virtual sub-groups is instantaneous (long live teleportation!), the conversation thread allows participants to express themselves in a different way, especially those who are less comfortable, to get written reactions live, and even to discuss between participants, co-writing live on a document shared on the screen is easier than ever, live polls can be created at any time to measure convergences and dissensus and discuss them together, etc. Breaks are not taken together over coffee, but can be taken around a video, a shared music playlist, or even a musical performance by a participant…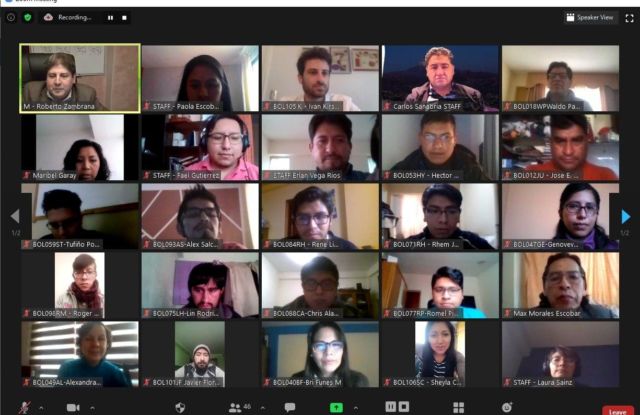 5) We stretch our imagination
All this online allows us to put our creativity as a facilitator to the test: instant polls, viewing of videos, extremely short interventions by citizens and observers from all over the world, live co-writing via the conversation thread or tools such as Google Doc, flash alternation between sub-groups and plenary sessions thanks to instant distribution…
This situation, if it were to continue, must finally question us on the development of hybrid methods: beyond the rise of synchronous digital (and yes, digital is not only asynchronous such as confinement has allowed us to (re)discover it), tomorrow we may have to bet more on asynchronous face-to-face: "Do it yourself" citizen conversation kits to be done in households with families, colleagues, in a ping-pong club, a 4th grade class or a retirement home; micro-agoras at markets, citizen surveys… while waiting to be able, as we were able to do so back in March 2020, to meet in large groups in satisfactory sanitary and deliberative conditions.
On that note, we wish you a lot of "public happiness" to come!